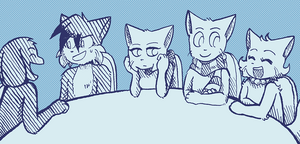 Starting Over is the chapter summary that takes place between the first volume and second volume. It recaps the story for newer readers instead of them having to read the entire story so far.
Background
Edit
This takes place after the 'Summer Holiday' arc.
Jessica and Rachel are trying to find somewhere to sit at lunch, when they spot Daisy and her friends sitting at a table nearby. They then become interested by the group, and try to find out their stories, especially about Mike and his 'harem' and Lucy. Rachel doesn't know that Lucy is deaf in one ear, and just dismisses it as her ignoring her. This then causes her to become angry and grab Lucy's tail, resulting in Lucy kicking Rachel in the mouth.